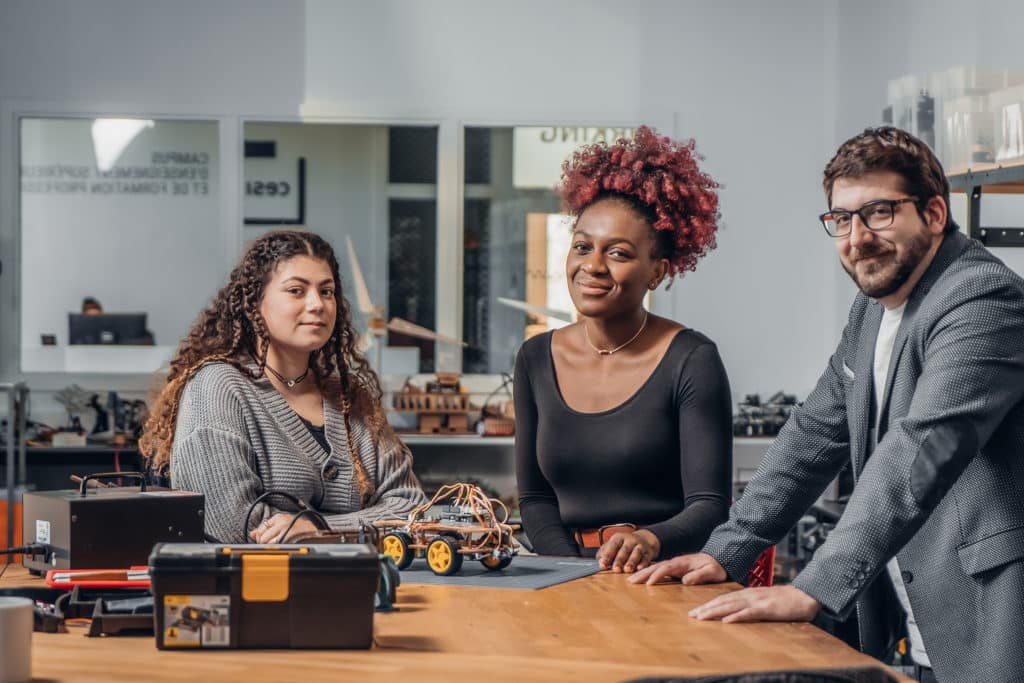 Pedagogy & Support
In order to ensure that you have the technical competencies and soft skills needed in the fast-paced, globalized, working world, CESI has chosen to implement active learning methods through Problem-Based Learning.
Problem based learning
First developed in 1969 at McMaster University in Canada, this student-oriented learning method was first applied in medical studies and then generalized to other higher education institutions. It aims to develop analytical, interpersonal, and project management skills.
Throughout your education at CESI, you will take part in multidisciplinary group projects using problem-based learning methods.
In order to successfully tacklea project, you will learn how to develop and apply scientific, organizational, and linguistic knowledge as well as interpersonal skills.
Each interdisciplinary project incorporates concepts from various academic fields. In addition, the growing complexity of the projects will help you progress towards the demanding graduate program and your future professional career. Once the project is completed and you have grasped these new concepts, you will be able to apply them in other situations. This method teaches you to show initiative, to discuss your ideas with members of a group, to respect the opinions of others, and to analyse a situation, all skills that your future employer will be looking for !
To implement this PBL pedagogy, CESI has transformed its classrooms into multimedia rooms with several round-table work areas. Interactive digital environments, screens and fablabs (fabrication laboratories) are dedicated to student use for rapid prototyping.
We also include courses related to innovation and entrepreneurship so that you have the knowledge you need to create your own start-up after graduation.
Resources
With a 100% digital network, you can find all academic and administrative resources on the Moodle platform. You will have your own account that you can log in to with your CESI email and password.
Grading System
You will receive grades on the letter scale of A to D, with A being the most excellent. If you receive a C or a D on a project, your academic advisor will ask you to redo parts of your work or give you supplementary tasks in order to improve your grade.
Participation is graded, and attendance is a part of the participation grade.
There are periodic timed exams on the computer–make sure to bring your laptop and charger with you to campus every day.
CESI is a member of the CDIO™ Initiative
The CDIO™ Initiative (Conceive, Design, Implement and Operate) is a global network of universities created in the late 1990s by MIT the Massachusetts Institute of Technology (MIT).
Today, CDIO™ brings together more than 100 institutions, among them Stanford and the University of Pennsylvania in the United States, École Polytechnique de Montréal and the University of Calgary in Canada, Beijing Jiaotong and Chengdu Universities in China, Queensland University of Technology and the University of Sydney in Australia, Chalmers University and KTH in Sweden, Trinity College Dublin in Ireland and CESI in France.
We work together with these partner institutions on the continuous improvement of education in engineering and meet regularly to brainstorm ways to improve our innovative pedagogical methods like PBL.
Student Services
CESI staff and faculty are dedicated to helping all of our international students in order to make sure you feel welcome and fully integrated in student life. Our extensive advising and administrative services provide you the tools you need to have a successful and enriching CESI experience.
Social Services – For Me
If you need psychological, administrative, legal, social, financial, and/or professional support, contact the CESI For Me service to get help.
Call +33 (0)1 75 00 48 35 24/7 to get personnalized assistance from experienced professionals.
Care Program
Brush up on your French language, learn about important administrative processes, and get a crash-course on French culture so you have all the essential information you need to start your academic career off right.
Buddy System
Sign up to be paired with a buddy to guide you through your first weeks in France and show you the ins and outs of student life at CESI.
Disability Services
Joining CESI means becoming a part of an institution that exceeds accessibility standards for people with disabilities. We take care to ensure that our campuses are accessible and are here to provide an atmosphere that propels all our students to success. Make sure to reach out to your local CESI Disability Coordinator to get the individualized support that you need.
Scholarships
The merit-based CESI scholarship of excellence rewards up to €2,000 per year to eligible international candidates.
In accordance with its policy of social inclusion, CESI welcomes scholarship recipients in all its programs.