Partnerships & networks
Implementing mobility abroad
CESI abroad
Outside France, CESI has around a hundred partnerships with higher education and/or research institutions.
Many of these partner institutions are located in Europe: Belgium, Bulgaria, Denmark, Germany, Greece, Ireland, Italy, Norway, Romania, Poland, Portugal, Slovakia, Spain, United Kingdom… but CESI School of Engineering also has valuable partners in other regions of the world: Argentina, Brazil, Canada, China, Korea, India, Madagascar, Mexico, New Zealand, Russia, Taiwan, USA…
Our partners around the world
Find our international partner institutions in the following table :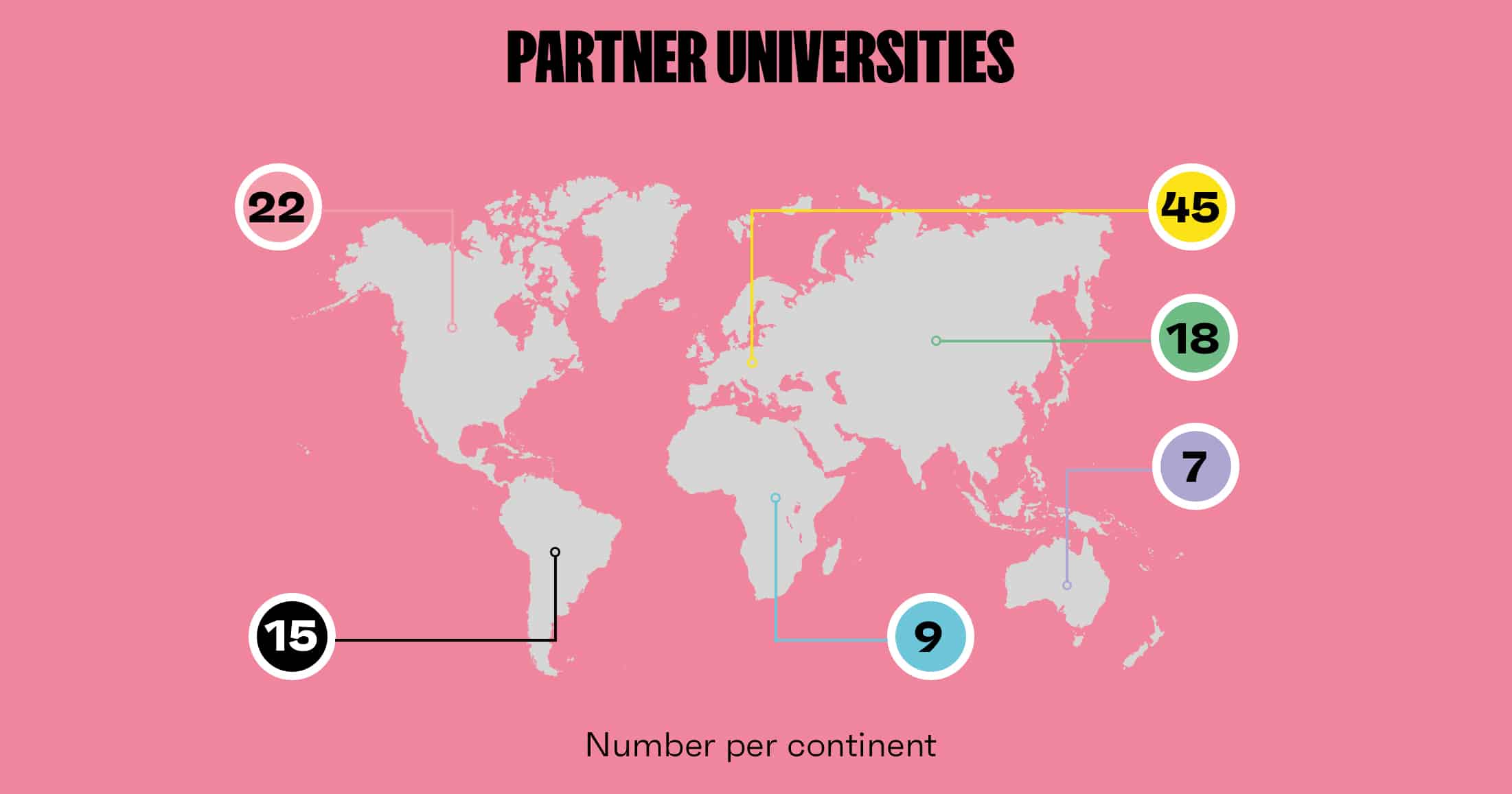 Canada
Ecole de Technologie Supérieure (ETS) : Montréal
Université du Québec à Montréal(UQAM) : Montréal
INRS EMT* : Varennes
Université Polytechnique de Montréal* : Montréal
Haiti
Université INUKA : Port-au-Prince
USA
Illinois Institute of Technology (IIT) : Chicago
Missouri University of Sciences and Technology (MUST)* : Rolla, Missouri
Lakeland Community College : Kirtland
University of Arkansas in Little Rock – Arkansas (UALR) : Little Rock
Worcester Polytechnic Institute* : Worcester
South Dakota State University* : Brookings
University of Nevada* : Reno
Florida International University* : Miami
Lone Star College : The Woodlands – Texas
Davidson County Community College : Davidson
Connecticut College of Technology : Connecticut
Los Alamos National Laboratory* : Los Alamos
University of Calfornia Los Angeles (UCLA) : Los Angeles
California State University Long Beach (CSULB) : Long Beach
University of California San Diego (UCSD) : Sand Diego
San Francisco State University (SFSU) : San Francisco
University of Santa Cruz Sillicon Valley (UCSC) : Santa Cruz
Argentina
Université nationale du Nord-Ouest – Buenos Aires
(UNNOBA) : Buenos Aires
Université nationale du Nord-Est (UNEE) : Corrientes
Brazil
Instituto Federal de Santa Catarina (IFSC) : Florianopolis
Pontificia universidade catolica do Parana (PUCPR) : Curitiba
Pontificia Universidade catolica do Rio Grande do Sul (PUCRS) : Porto Alegre
Université fédérale de Bahia (UFBA) : Bahia
Université fédérale de Santa Catarina (UFSC) : Florianopolis
Université d'état de Sao Paulo (UNESP) : Sao Paulo
Mexico
Université de Colima : Colima
Institut Technologique de Tepic : Tepic
Institut technologique supérieur de Misantla : Misantla
Universidad autonoma da Baja California (UABC) : Obregon
Université autonome de Chapingo : Chapingo
Instituto Tecnologico de Estudios Superiores del Oeste (ITESO) : Guadalajara
Institut Technologique de Veracruz : Veracruz
South Africa
French South-African technical Institute in Electronics F'SATIE : Tshwane / Pretoria
Cape Peninsula University of Technology (CPUT) : Le Cap
Cameroun
Madagascar
Université de Toamasina : Toamasina
Instituts supérieurs de technologie (IST) : Antananarivo / Antsiranana / Ambositra
Morocco
Université Mohammed V de Rabat (EMI) – Rabat
Tunisia
ESPRIT : Tunis
Sup'Com : Tunis
Institut Supérieur d'Informatique et de Technologies de Communications (ISIT) : Tunis
Institut International de Technologie (ITT) : Sfax
South Korea
Hanyang University : Seoul
Korea University of Technology and Education (KoreaTech) : Cheonan
China
Xi'an Jiaotong University : Xi'an
India
Manipal Jaipur University (MUJ) : Jaipur
National Institute of Technology Rourkela (NITR) : Rourkela
Institute of Infrastructure Technology Research and Management (IITRAM) : Ahmedabad
Indian Institute of Technology ROPAR (IIT) : Rupnagar
Indonesia
Universitas Mercu Buana : Jakarta
Malaysia
University of Kuala Lumpur (UniKL) : Kuala Lumpur
Universiti Teknologi Petronas : Kuala Lumpur
Universiti Tenaga Nasional (UNITEN) : Kajang
Universiti Telekom SDN BHD : Ayer Keroh
Taiwan
National Cheng Kung University : Tainan
Université nationale des sciences et des technologies de Taipei (Taipei Tech) : Tainan
Thailand
Sirindhom International Institute of Technology (SIIT)* : Thammasat university
Burapha University (BUU) : Bang Saen
Vietnam
Université des Sciences et des Technologies de Hanoï : Hanoï
Université Hoa Sen (HSU) : Hô-Chi-Minh-Ville
Germany
Technische Hochschule Mittelhessen (THM): Giessen
Belgium
Université de Liège* : Liège
Haute école «Groupe ICHEC-ISC SAINT LOUIS-ISFSC» : Bruxelles
Hénallux, Belgique : Verton
Bulgaria
Université technique de Sofia : Sofia
Denmark
Aalborg University : Aalborg
Esbjerg Institute of Technology : Aalborg / Esbjerg
Copenhagen University* : Copenhagen
Spain
Université Complutense de Madrid (UCM) : Madrid
Université Politechnique de Madrid (UPM) ETSI – UPM : Madrid
Université Polytechnique de Carthagène : Carthagène
Université de Jaen : Jaén
Université de Burgos* : Burgos
Université de Zaragoza : Zaragoza
Finland
Université d'Oulu* : Oulu
Greece
Université du Pirée : Le PIrée
Alexander Technological Educational Institute of Thessaloniki (ATEITH) : Thessalonique
Eastern Macedonia and Thrace Institute of Technology : Kavala
Irland
Université de Limerick* : Limerick
Italy
Università Carlo Cattaneo (LIUC) : Castellanza
North Macedonia
International Balkan University (IBU) : Skopje
Malta
University of Malta* : La Valette
Norway
University of Stavanger : Stavanger
Netherlands
Hanzehogeschool Groningen* : Groningen
Poland
Jagiellonian University : Cracovie
University of Silesia in Katowice : Katowice
University of Lodz : Lodz
Portugal
Université de Porto : Porto
University Institute of Lisbon (ISCTE) : Lisbonne
Czech Republic
Technical University of Ostrava (VSB) : Ostrava
Roumania
Université Technique de Cluj-Napoca : Cluj-Napoca
Université polytechnique de Timisoara (UPT) : Timisoara
Université Lucian Blaga de Sibiu : Sibiu
United Kingdom
University of Portsmouth : Portsmouth
University of Northumbria Newcastle (UNN) : Newcastle
Glyndwr University : Wrexham
Sheffield University* : Sheffield
Queens University of Belfast* : Belfast
Exeter University* : Exeter
Greenwich University* : Londres
Nottingham Trent University* : Nottingham
Russia
Novosibirsk State University (NSU) : Novosibirsk (actuellement mis en veille)
Saint Petersbourg State University of Aerospace Instrumentation (SUAI) : Saint-Petersbourg (actuellement mis en veille)
Slovakia
University of Zilina : Zilina
Sweden
Uppsala University* : Uppsala
Australia
Griffith University* : Brisbane
James Cook University* : Townsville
New Zealand
University of Canterbury : Christchurch
University of Auckland* : Auckland
Massey University* : Auckland
Auckland University of Technology* : Auckland
University of Waikato* : Hamilton
Our partnerships with these institutions promote student and staff mobility, but also the transfer of teaching experience and joint research work.
Find out how research activity and innovation are an integral part of CESI courses.
As a signatory of the Erasmus charter, CESI in international networks or contributes to its internationalization: active member of the "n+i" network, AUF (Agence Universitaire de la Francophonie), Forum Campus France, CDIO™, "Elles Bougent", QPES, several FITEC programs (Arfitec, Brafitec and Mexfitec) and many other strategic international networks.