The Créativ'Lab
At a time of digital transformation, companies are increasingly promoting collaborative work, particularly through the development of digital tools.
On the CESI campuses, students have access to creativity rooms, known as Créativ'Labs, designed as real collaborative work spaces and set up by CESI's teacher-researchers. They encourage the use of innovative teaching practices to improve collective performance.
Creativity rooms: spaces designed for active learning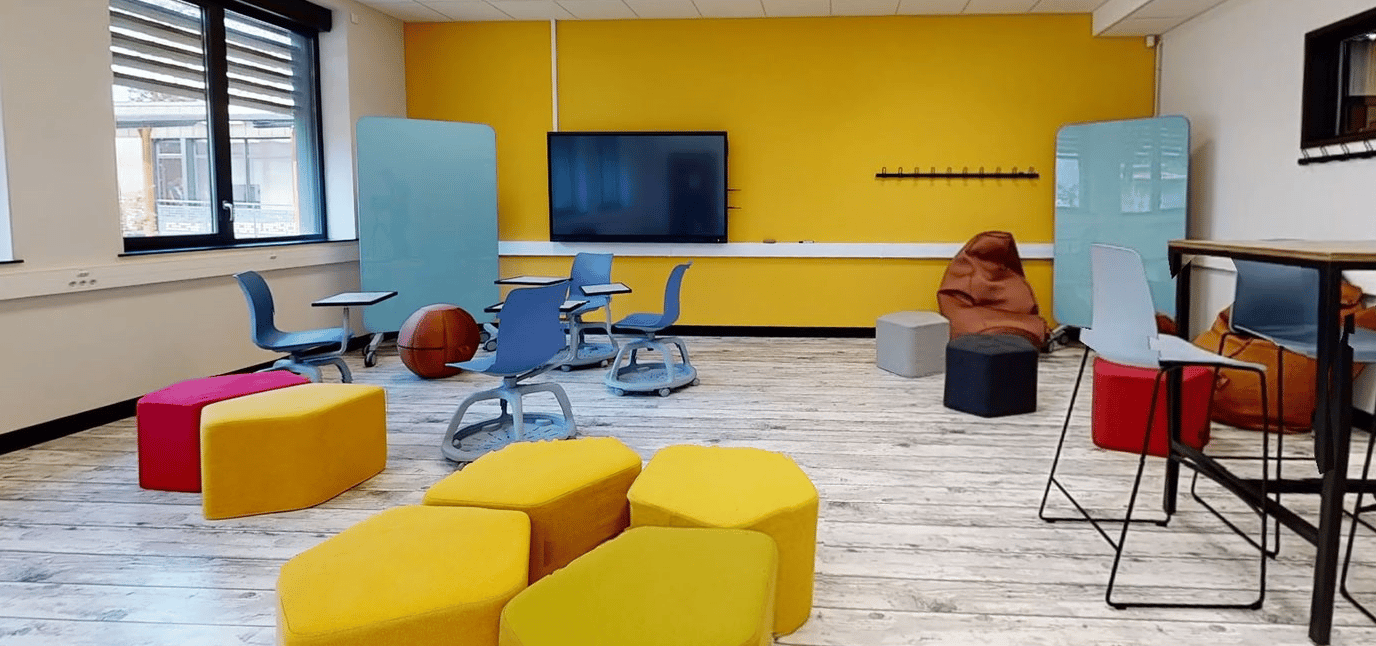 Designed on the basis of the work of the LINEACT CESI research and innovation laboratory and intended for group creativity and collective intelligence, the Créativ'Labs offer a new work dynamic, fostering exchange, ability to speak out and emergence of collective intelligence. These spaces are real innovation accelerators and are used in all training courses that include project-based work.
These creative spaces offer unique equipment and furniture, adapted to group work and experimentation. In the Créativ'Lab, there are large mobile, modular and writable tables. They are inspired by the multifunctional furniture that is increasingly found in large companies.
On the Nanterre campus, for example, the Créativ'Lab also houses a "Multitouch" collaborative touch table. Equipped with an interactive surface, this multi-user table allows a team of six learners to work in a divergent way on a project. The interactive table helps the expression of ideas in all phases of the innovation process and is a great team work tool for both learners and teachers.
Teamwork, an accelerator of collective performance
On the educational level, these new creative working tools have many advantages : they simplify the acquisition of knowledge and encourage all engineering students to express their ideas, including the most original ones. This is by no means insignificant: today, creativity is one of the most popular cross-disciplinary skills sought by recruiters, along with other soft skills such as autonomy, interpersonal skills, the capacity to be proactive and team spirit.
On the other hand, collaborative tools redistribute roles within the group, encourage speaking out and the emergence of collective intelligence. In training, these tools enable the horizontal development of the leadership process and prevent certain engineering students from dominating the leadership of group works. In this context, the LINEACT CESI research teams have also developed and patented an innovative multimodal table for active teaching.
CESI is an innovator in the field of education and is constantly adapting its training offer to the changing business world. By funding creative spaces, CESI is reasserting its commitment to the training of tomorrow's engineers: flexible, open, creative and competent, whatever the work methodology of the company.