CESI launches its new brand identity and develops its activities under a single brand to assert its position as a major player in higher education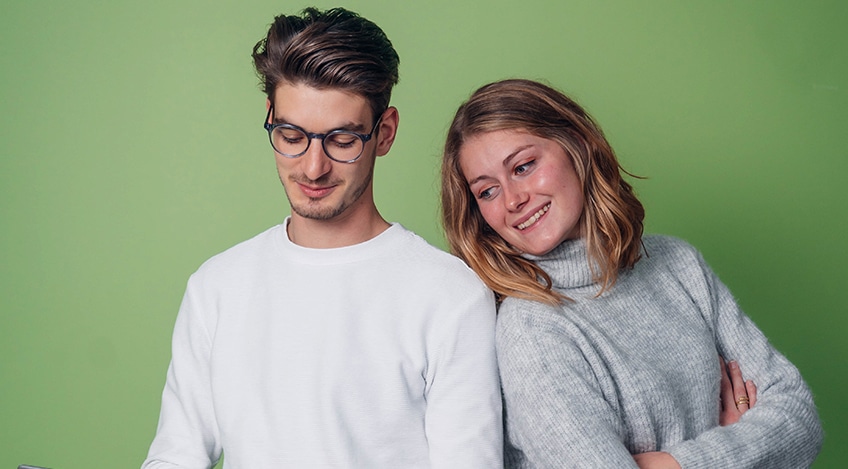 In this page :
---
Historically focused on three school brands: CESI École d'Ingénieurs, CESI École Supérieure de l'Alternance and CESI École de Formation des Managers, as of October 2022, CESI has decided to develop all of its offers for all of its audiences with a single image and simplified communication.
CESI
CESI IN FIGURES
CESI is a pioneer and leader in France for higher education apprenticeships and active teaching methods. Today, CESI counts 26,000 students, including 20,000 work-study students on its 25 campuses all over France, equipped with state-of-the-art facilities and 95,000 alumni.
Since its foundation by companies in 1958, CESI has managed to develop a different idea of excellence with very high employability:
– By committing itself in favour of social promotion, constantly positioned at the heart of the school's project, and professional integration as a genuine welfare ladder for its students.
– By developing academic excellence on a more practical level and in close proximity to companies, with 8,000 partner companies and 2,800 expert speakers. – By staying at the heart of technological, economic and societal transformations with the CESI LINEACT research laboratory, specialising in the application fields of the industry of the future, the building of the future and the intelligent city.
A new range of educational programmes based on eight programs
Through its local presence and its 25 campuses, CESI offers four engineering degrees recognised by the Commission for Engineering Qualifications (CTI) and 33 qualifications registered in the RNCP (National Directory of Professional Certifications) from High School Diploma +2 to High School Diploma +8 level, accessible throughout France.
Grande Ecole Program
A Grande Ecole Program (High School Diploma +5), under student or apprentice status, offering entry to an integrated preparatory cycle, followed by an engineering cycle with four specialities and a wide choice of options leading to engineering diplomas accredited by the National Directory of Professional Certifications (CTI).
Bachelor's degree program
A Bachelor's degree program (High School Diploma +3), offering a Bachelor's degree in science and engineering approved by the National Directory of Professional Certifications (CTI). This three-year post- High School Diploma course is exclusively available on an apprenticeship basis and provides training in the fields of construction, maintenance, artificial intelligence and health. Meeting the criteria of engineering schools to the highest level of quality, this degree encourages the study of engineering at both national and international levels, and helps students enter the professional world with a distinguished diploma.
Vocational Higher Education Program
A Vocational Higher Education Program from High School Diploma +2 to High School Diploma +5, offering the opportunity to learn a trade. This program includes an advanced technician cycle leading to a High School Diploma + 2, followed by a professional bachelor's cycle leading to High School Diploma +3 and a professional master's cycle leading to High School Diploma + 5. Since 75% of the program is completed as an apprenticeship in a company, CESI's Advanced Vocational Program ensures that each student is operational due to real-life professional applications. Students build their professional skills and attitude, prepare for the job of tomorrow and achieve their success through project-based teaching via real-life company cases.
This approach allows the student to gain practical professional technical skills and to develop the cross-disciplinary skills required in a company. The Advanced Vocational Program's advanced technician cycle (High School Diploma +2) is now available under student status to prepare students for their entry into working life.
Specialised Masters program
A Specialised Masters program at High School Diploma +6 level : 23 courses of excellence approved by the Conference of Grandes Ecoles (CGE), aimed at young graduates wishing to specialise and develop expertise and skills using selective training taught by experts from the socio-economic world in 4 major fields: industry, construction and public works, information technology and digital technology and human resources and management.
These courses create close and constant links between theory and practice during a 12-month sandwich course. The in-company placement and the completion of a professional thesis provide proof of in-company experience and enhance employability. Different statuses (student, apprentice, vocational training trainee, employee or job seeker) are available according to each situation.
Doctoral Program
A Doctoral Program aimed at achieving the HESAM University doctorate at LINEACT CESI laboratory.
During this course, the doctoral student, through training, takes part in the conduct of research whose approach is centred on humans, their needs and uses, coupled with the use of technologies and territorial networking. The training takes place within the Engineering Sciences Trade (SMI) – 432 Doctoral School, which is part of the HESAM University Doctoral College, a Comue (community of universities and establishments) that CESI is a founding member of since 2018.
Research at LINEACT CESI focuses on two complementary and unifying scientific topics and two major fields of application: the City of the Future and the Industry of the Future, helping to meet the major challenges of energy and digital transitions of our societies. To date, CESI's research community is made up of 150 researchers, teacher-researchers, research engineers and doctoral students from various backgrounds and present throughout the country. The HESAM University doctorate is registered with the RNCP.
Executive Program
An ambitious Executive Program from High School Diploma +2 to High School Diploma + 6 intended for working professionals wishing to boost their career, deepen their expertise or specific skills, or move up the management ladder by means of recognized degrees or certification courses. To answer the individual or collective needs of working people, employees, people undergoing professional retraining and job seekers, these courses aim at different levels of accreditation from High School Diploma +2 to High School Diploma +6 in 4 fields of expertise:
Construction
Industry
IT & Digital
HR & Management
The professional certifications registered with France Compétences, the engineering diplomas accredited by the Commission for Engineering Qualifications (CTI) and the Specialised Master's courses accredited by the Conference of Grandes Ecoles (CGE) are the guarantee of official recognition of CESI's diplomas in higher education and within companies. The Executive Program courses are tailored to the work schedule of professionals and offer a wide choice of periods and expertise, from short sessions of a few days to long courses leading to a diploma, as well as a block of skills qualifying for the Personal Training Account (PTA).
Gateway programs
Innovative gateway programs will be set up to enable students to complete the scientific background or prerequisites required to qualify for CESI's degrees and diplomas: engineering gateway program, state-qualified engineer program (IDPE), validation of work experience (VAE) scheme.
International students programs
Programs for international students will also be developed. These programmes will enable the school to benchmark its international standards (outgoing mobility, bidiploma courses), improve student sourcing and thus increase the number of partners and exchanges abroad, while offering a multicultural experience to students.